BOHO DIY: Making Moon Water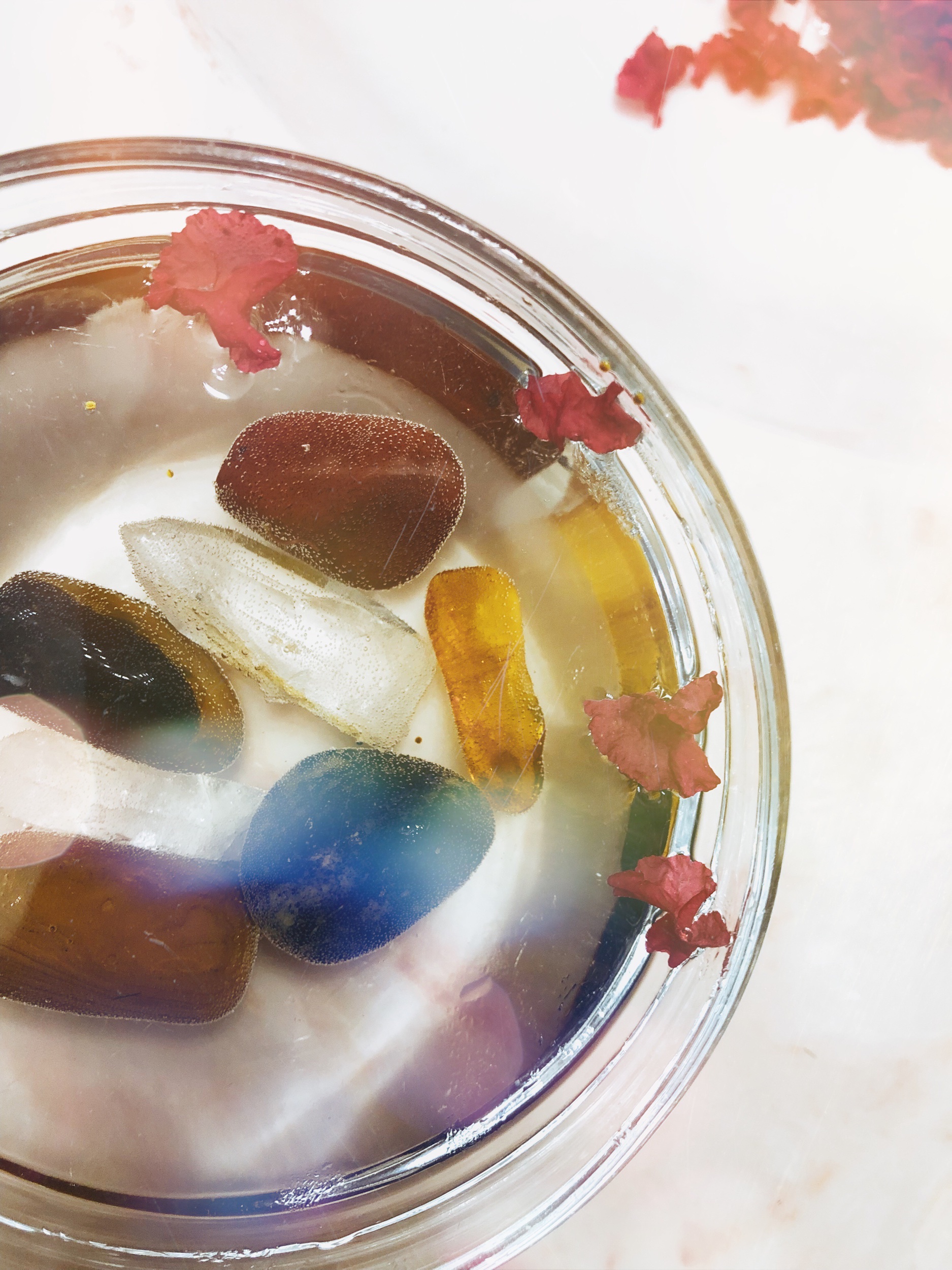 Boho DIY: making Moon
Water
Here we are!
The second, official blog post of the new BohemeMe.com! I know. Before you start in on me, hear me out. I've been so busy, sometimes I can barely think straight. With having to start up and run a business, then deal with taxes (which is a whole other beast I'm having to learn), on top of maintaining a home, another part-time job, a husband, a dog + a cat, it's safe to say the blog had to take a back burner for a while. It doesn't mean I like it.
Before we dive in, I just wanted to say a few things about the blog. I'm so excited to still have a location to bring you posts that may interest you in the realm of the Bohemian Lifestyle. When I envisioned BohemeMe.com, it always involved a blog, because I believe it is such a great outlet, for me personally as a writer + creative, but also for you, when trying to make new choices in your life, or even to hear a point of view that may differ from mainstream. Because let's face it, our society can come up with some pretty crazy concepts for what is socially acceptable these days (for better or worse), and I feel it's just good to have a little burrowed cave online where people can feel free to still hold onto, at best, core beliefs or at the very least an alternative point of view. A place to share and be heard, and know that you're safe. With that being said, I'm so glad you're here. If this post speaks to you, please leave a comment, below. Xo
The Full Moon
has arrived yet again, as she tends to do every month. Only tonight is a little unique. We all know today is Friday the 13th, but tonight will be what is called the "Full Harvest Micromoon". Don't let the title deceive you, what it actually means is that the moon will appear about 14% smaller because it will be at it's furthest point from the earth. This doesn't change the vibrant light that will still emit from it. It will truly be a night to write in the books. The next full moon on a Friday the 13th won't happen again until August 13th, 2049! With such unique energy surrounding us, we really have an opportunity for growth in the coming month if we choose to embrace this self-care ritual.
Here's what you'll need:
Approximately 4oz of natural spring water (or otherwise purified)

A small bowl

Your favorite handful of promoted healing crystals

Flower petals (preferably from flora that grow within your region)

A mind full of intentions for the coming month

Essential oils of your choice to help echo whatever intentions you set
Now here's what to do:
Place your crystals in the bottom of the bowl, then fill with water. I chose my Tiger's Eye, Yellow + Red Jasper, Lapiz Lazuli, Amber, and of course, Clear Quartz Crystal to help amplify them all.

Find a window facing the moon, or a location outside, under direct moonlight to begin pulling the petals from the flower you chose, and place them in the water. I used the flowers from the Crepe Myrtles that grow on our property. They should float along the top. As you do this, be thinking of the intentions you'd like to set for your month ahead. What would you like to work on within yourself? Is there a goal you hope to reach? A mindset you wish to possess? Be thinking and meditating on these things as you fill the water with the petals until you can no longer see the surface of the water.

Add a few drops of your essential oils. I chose Lemon, because it is SO refreshing and gives you a burst of energy right from the beginning, as well as it's anti-stress and anti-anxiety qualities, that aligned perfectly with a few of my own intentions, but you can choose whichever carries significance to you and your journey.

4. Allow the water to remain in place over night, as well as within the first few moments of the sunrise. This will help it receive not only the regenerative energy from the moon, but also the action energy of the sun in order to help set things in motion.

5. Once you've gathered your moon water, remove the petals and pour the water into your spray bottle. Glass, preferably, but plastic will do if it's all you have. Your moon water is now ready, set with your intentions at hand, and can be used as a face or body mist. I use mine when applying my daily facial routine in the mornings as part of my regimen.

Every time you use your refreshing mist, you will be reminded of your intentions for the coming month and it will help to solidify as you usher them in. Be sure to check your feelings when the memory comes up. You want to try and emit only light into that energy you're moving in. If the thought of your intentions brings you anxiety or depression, ask yourself why and try journaling about it for a while. If you need more ideas, I'm always around to chat, too. Remember, this is supposed to be an uplifting experience that you are choosing to create for yourself.
When it comes to dealing with issues of the heart and taking progressive steps forward, it doesn't have to look a certain way, by no means. Each and every person's journey and life leading up to this very moment are all very different in comparison. Have you ever made moon water before? What does your process look like? It could very well be different from mine. I'd love to hear about it.
If you decide to do this ritual tonight, let me know how it turned out for you, or even better, check back in and let me know how your following month plays out. This journey of self is a long one, and we don't have to do it alone. Leave a comment below about any area in your life you hope to set some new intentions for in the coming lunar month! I can't wait to read your journey, too!
Until next time, may the road rise up to meet you!
Xo
d.